Aaja Nachle
Aaja Nachle – "Dance With Me"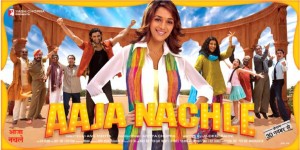 Year of release: 2007
Duration: 146 min
---
Cast: Madhuri Dixit, Konkona Sen, Kunal Kapoor, with Akshaye Khanna, Irrfan Khan & Divya Dutta in a Special Appearance
Lyrics: Jaideep Sahni & Piyush Mishra
Music: Salim-Sulaiman
Producer: Aditya Chopra
Director: Anil Mehta
---
Synopsis
If you are a TV programming manager and you are looking for the best Indian movies, which have had a big international box office success, this is one of the best movies produced in India in the recent years.
An unexpected phone call shakes Dia (Madhuri Dixit) out of her dance rehearsal in New York.
Her teacher, her guru, is dying and she must return to India. The town where she grew up, the town where she learnt to live and to dance. Also the town she left on an impulse, severing ties with her parents and her people.
It is a poignant and troubled return; not only has her guru passed away but the institution that he so lovingly nurtured is in decay and under threat of demolition. Ajanta theatre, the once vibrant hub of the community, the place where Dia's fondest memories are embedded must now be brought down because the local political authorities feel it a waste of prime real estate.
Dia picks up the gauntlet to turn this ruin into a vibrant and bustling theatre that was
---
Awards
INTERNATIONAL INDIAN FILM ACADEMY
(IIFA) AWARD
Best Choreography – Vaibhavi Merchant
(Aaja Nachle…)
---
Preview
Movie Trailer
Song from the Movie
---
Are you a programming or acquisition manager looking for the best Indian movies and obtaining the rights for your territory?
Contact us at: + 359888308180 or
Email Us