Jodhaa Akbar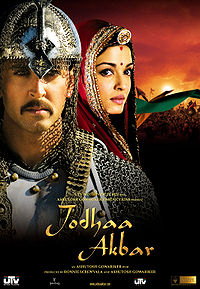 Year of release: 2008
Duration: 213 min
---
Cast:
Hrithik Roshan, Aishwarya Rai
Director:
Ashutosh Cowariher
Genre:
Epic- Romance
---
Synopsis
If you are a TV programming manager and you are looking for the best Indian movies, which have had a big international box office success, this is one of the best movies produced in India in the recent years.
The film centers around the romance between the Muslim Mughal Emperor Akbar the Great, played by Hrithik Roshan, and his Hindu wife Jodhabai, played by Aishwarya Rai Bachchan. The music is composed by acclaimed music composer A. R. Rahman. The film has won the Audience Award for Best Foreign Language Film at the São Paulo International Film Festival, two awards at the Golden Minbar International Film Festival, seven Star Screen Awards and five Filmfare Awards, in addition to two nominations at the 3rd Asian Film Awards. The Charlotte Observer ranked Jodhaa Akbar at #2 in its list of top ten films released in 2008 from across the world.
---
Number 8 in International box office sales
Source:Box Office India
---
Preview
Elephant fight scene
Awards
Filmfare Awards
* Best Film – Ronnie Screwvala and Ashutosh Gowariker
* Best Director – Ashutosh Gowariker
* Best Actor – Hrithik Roshan
* Best Lyricist – Javed Akhtar
* Best Background Score – A. R. Rahman

Star Screen Awards
* Best Film – Ronnie Screwvala and Ashutosh Gowariker
* Best Actor – Hrithik Roshan
* Best Background Music – A. R. Rahman
* Best Choreographer – Raju Khan for "Khwaja Mere Khwaja"
* Best Director – Ashutosh Gowarikar
* Most Popular Actress – Aishwarya Rai Bachchan
* Best Actress – Aishwarya Rai Bachchan
* Best Action – Ravi Dewan
* Best Actor in a Negative Role – Ila Arun
* Best Art Direction – Nitin Chandrakant Desai
* Best Lyrics – Kashif for "Khwaja Mere Khwaja"
* Best Music – A. R. Rahman
* Best Male Playback Singer – A. R. Rahman for "Khwaja Mere Khwaja"
* Best Special Effects – Pankaj Khandpur

Stardust Awards
* Star of the year – Hrithik Roshan
* Dream director – Ashutosh Gowariker
* The New Menace – Nikitin Dheer


V Shantaram Awards
* Best Director Bronze Award – Ashutosh Gowariker
* Best Actress – Aishwarya Rai
* Best Music – A. R. Rahman

IIFA Awards
* Best Picture
* Best Director
* Best Actor
* Best Music Director
* Best Lyricist
* Best Male Playback
* Best Art Direction
* Best Background Score
* Best Costume Design
* Best Makeup

International Awards
Golden Minbar International Film Festival of Muslim Cinema (Kazan, Russia)
* Best Film (Grand Prix) – Ashutosh Gowarikar
* Best Actor Award – Hrithik Roshan
32nd São Paulo International Film Festival (Brazil, South America)
* Audience Award for Best Foreign Language Film – Ashutosh Gowarikar
Asia Pacific Screen Awards
* Nominated, Achievement in Cinematography – Kiiran Deohans
3rd Asian Film Awards
* Nominated, Best Production Designer – Nitin Chandrakant Desai
* Nominated, Best Composer – A. R. Rahman
Are you a programming or acquisition manager looking for the best Indian movies and obtaining the rights for your territory? Contact us at: + 359888308180 or Email Us