CHAK DE INDIA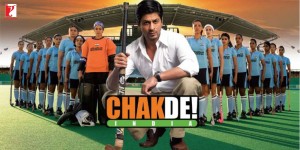 Year of release: 2007
Duration: 157 min
---
Cast: Shahrukh Khan, Vidya Malavade, Sagarika Ghatge, Chitrashi Rawat, Shilpa Shukla, Tanya Abrol & others
Lyrics: Jaideep Sahni
Music: Salim-Sulaiman
Producer: Aditya Chopra
Director: Shimit Amin
---
Number 42 in International box office sales
Source:Box Office India
---
Synopsis
If you are a TV programming manager and you are looking for the best Indian movies, which have had a big international box office success, this is one of the best movies produced in India in the recent years.
CHAK DE INDIA – "Go for it .. India"
Kabir Khan (Shah Rukh Khan) knows what it is like to come back from the dead. The disgraced ex-Indian Hockey team captain has returned to coach the Indian Women's National Hockey team. A team that exists more on paper than the pitch. This is an inspirational story about overcoming our geographical and class differences and fight the battle of life with honesty, sincerity and integrity. The Film became a cult classic and won its leading man the National Award and put the Indian National Sport "Hockey", back on the map.
---
Awards
NATIONAL AWARD
1. Best Film for providing Popular
and Wholesome Entertainment

Filmfare Awards
1. Critics Award For Best Film
2. Best Actor – Shahrukh Khan
3. Best Editor – Amitabh Shukla
4. Best Action – Rob Miller
5. Best Cinematography – Sudeep Chatterjee

INTERNATIONAL INDIAN FILM ACADEMY
(IIFA) AWARDS
1. Best Film – Aditya Chopra (Producer)
2. Best Director – Shimit Amin
3. Best Actor – Shahrukh Khan
4. Best Story – Jaideep Sahni
5. Best Screenplay – Jaideep Sahni
6. Best Cinematography – Sudeep Chatterjee
7. Best Editor – Amitabh Shukla
8. Best Sound Recording – Manas Choudhary
& Ali Merchant (YRF Studios)
9. Best Sound Re-recording – Anuj Mathur
(YRF Studios)

ZEE CINE AWARDS
1. Best Film – Aditya Chopra (Producer)
2. Best Actor – Shahrukh Khan
3. Best Cinematography – Sudeep Chatterjee
4. Best Editor – Amitabh Shukla
5. Best Dialogue – Jaideep Sahni

SCREEN AWARDS
1. Best Film – Aditya Chopra (Producer)
2. Best Director – Shimit Amin
3. Best Actor – Shahrukh Khan
4. Best Supporting Actress – Chak De India Girls
5. Best Editor – Amitabh Shukla

APSARA AWARDS
1. Best Film – Aditya Chopra (Producer)
2. Best Director – Shimit Amin
3. Best Actor – Shahrukh Khan
4. Best Screenplay – Jaideep Sahni
5. Best Story – Jaideep Sahni
6. Best Editor – Amitabh Shukla
7. Best Sound – Manas Choudhary & Ali Mer
chant (YRF Studios)
8. Best Re-Recording – Anuj Mathur
(YRF Studios)

V.SHANTARAM AWARDS
1. Best Film – Aditya Chopra (Producer)
2. Best Director – Shimit Amin
3. Best Actor – Shahrukh Khan
4. Best Editor – Amitabh Shukla
5. Best Sound – Manas Choudhary & Ali Merchant
(YRF Studios)

INDY'S AWARDS FOR EXCELLENCE IN MASS
COMMUNICATION 2008
1. Best Director – Shimit Amin
2. Best Editor – Amitabh Shukla
3. Best production house of the year – Yash Raj
Films

MAX STARDUST AWARDS
1. Hottest Young Film Maker – Shimit Amin
2. The New Menace – Shilpa Shukla
3. New Musical Sensation (Male) – Krishna &
Salim Merchant (Song: Maula Mere…)
5TH AUSTRALIAN INDIAN FILM FESTIVAL
Best Film – Aditya Chopra (Producer)

THE BILLIE AWARD
Best Film of the year in the "Entertainment" category
– Chak De India

CINE BLITZ AWARD
Wholesome Entertainer of the year
– Chak De India

ANNUAL CENTRAL EUROPEAN
BOLLYWOOD AWARD
Best Actor – Shahrukh Khan

HT CAFÉ (HINDUSTAN TIMES) FILM AWARD
Best Actor – Shahrukh Khan

CN-IBN POLL
Best Film of the year (as per the year-end poll
conducted by the channel)

NDTV POLL
Song of the year – Chak De India… (as per the
annual year-end poll conducted by the channel)

CN-IBN INDIAN OF THE YEAR
(ENTERTAINMENT CATEGORY)
Jaideep Sahni & Shimit Amin

UNFPA
(UNITED NATIONS POPULATION FUND)
Laadli Media Award for Gender Sensitivity
for a Hindi Film
---
Preview
Movie Trailer
Song from the Movie
Are you a programming or acquisition manager looking for the best Indian movies and obtaining the rights for your territory? Contact us at: + 359888308180 or Email Us