Jhoom Barabar Jhoom
Jhoom Barabar Jhoom – "Liars"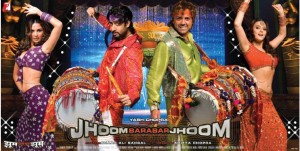 Year of release: 2007
Duration: 132 min
---
Cast: Abhishek Bachchan, Preity Zinta, Bobby Deol, Lara Dutta & Amitabh Bachchan in a Special Appearance
Lyrics: Gulzar
Music: Shankar-Ehsaan-Loy
Producer: Aditya Chopra
Direction:Shaad Ali Sahgal
---
Number 36 in International box office sales
Source:Box Office India
---
Synopsis
If you are a TV programming manager and you are looking for the best Indian movies, which have had a big international box office success, this is one of the best movies produced in India in the recent years.
"JHOOM BARABAR JHOOM – Groovin' On"
London, an overcrowded cafe, one table to share. Two strangers tell each other "how I met my fiance" stories to kill time. Rikki (Abhishek Bachchan) met his fiance Anaida (Lara Dutta) at the Ritz in Paris and Alvira (Perity Zinta) met her prince charming Steve (Bobby Deol) at madam Tussaud's in London.
Stories unfold and by the end of their session the two have alarmingly gotten attracted to each other.
What follows is a crazy love story full of lies, deceits and a complicated quadrangle – Rikki and Alvira have gotten themselves as well as Anaida ad Steve in to a lovely mess, where each of them have to think quick on their feet, dancing around each other's emotions playing musical chairs & lying through their teeth. If opposites attract – then this is it
---
Preview
Movie Trailer
Song from the Movie
---
Are you a programming or acquisition manager looking for the best Indian movies and obtaining the rights for your territory? Contact us at: + 359888308180 or Email Us