Kabul Express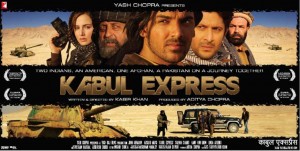 Year of release: 2006
Duration:
---
Cast: John Abraham, Arshad Warsi, Salman Shahid, Hanif Hum Ghum & Linda Arsenio
Lyrics: Aditya Dhar
Music: Raghav Sachar
Producer: Aditya Chopra
Written & Directed by: Kabir Khan
---
Synopsis
If you are a TV programming manager and you are looking for the best Indian movies, which have had a big international box office success, this is one of the best movies produced in India in the recent years.
Suhel (John Abraham) and Jai (Arshad Warsi) – TV journalists from India in search of the ultimate news scoop, meeting the Taliban.
Imran Khan Afridi (Salman Shahid) – a soldier of the hated and derided Taliban who needs to escape the wrath of the Afghans and run to his country, Pakistan. Khyber (Hanif Hum Ghum) – an Afghan who is as old as the war in his country. Jessica Beckham (Linda Arsenio) – an American photojournalist ready to risk her life to photograph the Taliban. Five people from different worlds, their paths are destined to cross in a ruthless country devastated by war – Afghanistan.
This is a thrilling story spanning 48 hours of five individuals linked by hate and fear, but brought together by fate to finally recognize each other.
Set in post 9/11 war-torn Afghanistan, Kabul Express is a kidnap drama that is alternately funny and horrifying. Narrated in a light hearted manner, this is the story of a unique reluctant bond that develops between people who are otherwise hostile towards each other but are compelled to understand one another in the time that they are forced to share together.
---
Awards
NATIONAL AWARD
Best First Film Director – Kabir Khan

ASIAN FESTIVAL OF 1ST FILMS
1. Best Director – Kabir Khan
2. Critics Award for "Best Film"
Foreign Correspondents Association Purple Orchid Award

KABUL EXPRESS RECOGNITIONS
Screened at:
1. 31st Toronto International Film Festival (World Premiere)
2. 11th Pusan International Film Festival (Asia Premiere)
3. 50th London International Film Festival (UK Premiere)
4. 3rd Dubai International Film Festival (UAE Premiere)
5. 3rd Casablanca International Film Festival
6. 31st Cairo International Film Festival
7. 3rd Asian Festival of 1st Films
---
Preview
Movie Trailer
---
Are you a programming or acquisition manager looking for the best Indian movies and obtaining the rights for your territory? Contact us at: + 359888308180 or Email Us