Dil To Pagal Hai
Dil To Pagal Hai – "Crazy Hearts"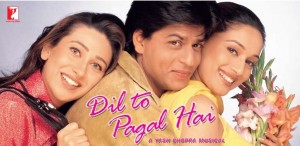 Year of release: 1997
Duration: 180 min
---
Cast: Shahrukh Khan, Madhuri Dixit, Karisma Kapoor & Akshay Kumar
Lyrics: Anand Bakshi
Music: Uttam Singh
Producer & Director: Yash Chopra
---
Number 31 in International box office sales
Source:Box Office India
---
Synopsis
If you are a TV programming manager and you are looking for the best Indian movies, which have had a big international box office success, this is one of the best movies produced in India in the recent years.
Dil To Pagal Hai is the story of Rahul (Shah Rukh Khan), who does not believe in love. Rahul fails to understand how two people can spend their lives together.
It is the story of Pooja (Madhuri Dixit), who believes that there is someone who is made for her and she is destined to meet that person.
It is also the story of Nisha (Karisma Kapoor) who believes that love is friendship and one day her dream will come true.
Dil To Pagal Hai is a grand musical about passionate people with dreams. Will their dreams come true? Will they find their true love?
Dil To Pagal Hai makes us believe that – someone….somewhere…. is made for us.
---
Awards
NATIONAL AWARDS
1. Best Film for providing Popular
and Wholesome Entertainment
2. Best Supporting Actress – Karisma Kapoor
3. Best Choreography – Shiamak Davar

FILMFARE AWARDS
1. Best Film – Yash Chopra (Producer)
2. Best Actor – Shah Rukh Khan
3. Best Actress – Madhuri Dixit
4. Best Supporting Actress – Karisma Kapoor
5. Best Dialogue – Aditya Chopra
6. Best Art Direction – Sharmishta Roy
7. Best Music Director – Uttam Singh

ZEE CINE AWARDS
1. Best Film – Yash Chopra
2. Best Actress – Madhuri Dixit
3. Best Actor – Shah Rukh Khan
4. Best Actress in a Supporting
Role – Karisma Kapoor

5. Best Dialogue – Aditya Chopra
6. Best Art Direction – Sharmishta Roy
7. Best Music Director – Uttam Singh
8. Best Female Singer –
Lata Mangeshkar
9. Best Cinematography –
Manmohan Singh
10.Best Special Effects –
Sai Prasad (EFX)
11.Best Choreography – Shiamak Davar

SCREEN AWARDS
1.Best Choreography – Shiamak Davar
2.Best Art Direction – Sharmishta Roy
MTV VIDEO AWARD
Indian Viewers Choice Award for the Best
Album – Lata Mangeshkar
& Udit Narayan
---
Preview
Movie trailer

---
Are you a programming or acquisition manager looking for the best Indian movies and obtaining the rights for your territory? Contact us at: + 359888308180 or Email Us