Hamare Dil Aapke Paas Hai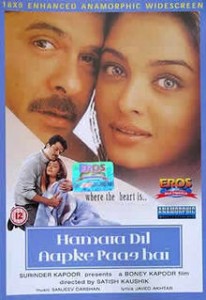 If you are a TV programming manager and you are looking for the best Indian movies, which have had a big international box office success, this is one of the best movies produced in India in the recent years.
Preeti Virat (Aishwarya Rai) is a young, vivacious and naive girl. She once comes forward as a witness to heinous assault carried by Bhavani Choudhry and his men on a person who owes them money. Her testimony angers the Choudhry family, and as a result, Choudhry's brother rapes her. Subsequently, she becomes a disgrace even to her own family. Disowned by her own family and secluded by society, she leaves her house. However, she finds shelter with a courteous man called Avinash (Anil Kapoor). Avinash, who had met her once before, takes her to his apartment. This act invites a social opprobrium and strong uproar over both of them, and there is no other solution but marriage. They soon fall in love with each other, and Avinash decides to ask Preeti for marriage, but she refuses as she considers herself unworthy of him. After some time, Avinash's childhood friend Khushi (Sonali Bendre) returns from America, and she is seemed to be very much in love with him. This is followed by couple of troubles, the main of them being Preeti's police arrest under the charge of prostitution, which is a complaint filed by Avinash's dad. At the end Avinash and Preeti finally realise that they love each other.
---
Cast: Anil Kapoor, Aishwariya Rai, Sonali Bendre
Music: Sanjeev-Darshan
Producer: Surinder Kapoor
Direction: Satish Kaushik
---
Rights available :
Theatrical,
Home Video,
Terrestrial Television,
In-flight
Rights availability enquiry form
( Fill in this form if you are interested in obtaining the rights for this movie in your territory)
---
Year of release: 2000
Duration: 164 mins
---
Preview
Movie Trailer
Movie Song
Gallery
---
Are you a programming or acquisition manager looking for the best Indian movies and obtaining the rights for your territory? Fill in the form below and we will come back to you with all the requested information: