Hum Dil De Chuke Sanam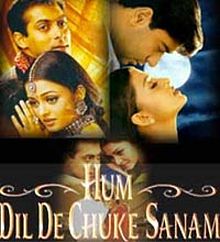 Year of release: 1999
Duration: 188 minutes
---
Cast: Salman Khan, Ajay Devgan, Aishwarya Rai
Music: Ismail Darbar
Producer: Sanjay Leela Bhansali. Jhamu Sughand
Direction: Sanjay Leela Bhansali
---
Synopsis
If you are a TV programming manager and you are looking for the best Indian movies, which have had a big international box office success, this is one of the best movies produced in India in the recent years.
Nandini (Aishwarya Rai) is the daughter of Pandit Darbar (Vikram Gokhale), renowned proponent of Indian classical music, living in the Rann of Kutch. Nandini has been brought up with more freedom and education than her siblings, as she is the most beloved of Pandit Darbar.
Into this carefree life enters Sameer (Salman Khan), a boy of Indo-Italian parentage who wants to learn Indian classical music from Pandit Darbar. Sameer stays with the Darbar family, and Nandini is asked to vacate her room to give the guest the nicest room in the manor. Nandini takes a dislike to Sameer, and the two keep playing pranks on each other, but soon realise they are in love. Their love blossoms in the Darbar household around weddings, festivals and family get-togethers.
One day the pair are caught rehearsing their wedding vows and dreaming of their future together by Pandit Darbar, who becomes furious with them. He has already planned Nandini's wedding. Sameer is kicked out of the house and asked never to contact Nandini again. Sameer does not leave India immediately. He stays in town and writes letters to Nandini asking her to join him, but his letters do not reach her in time.
Nandini's parents have arranged to get her married to Vanraj (Ajay Devgan) — who had fallen in love with Nandini during her cousin's wedding. On the wedding night, Vanraj realises that Nandini is not herself and tries to ask her why she is not responding to his love. He asks her for the truth, promising he will help her no matter what. Nandini stays quiet but is later caught reading Sameer's letters. Vanraj is very angry at first as all he had asked was the truth from her.
When he realises that his wife is in love with another man, he shows the ultimate love by taking Nandini to Italy and help her search for Sameer, much to the dislike of his own parents.
Nandini and Vanraj arrive in Italy and start searching for Sameer but always come up against dead ends. During their search, they face many problems and dilemmas and slowly Nandini gets to see what Vanraj really is like. She sees Vanraj selflessly devoting himself to caring for her during her stay in hospital after an incident.
Eventually they get news about Sameer through his mother (played by Helen), and Vanraj arranges for Nandini to meet Sameer on the night of his debut concert. His job done, Vanraj says goodbye to Nandini and walks away. Nandini and Sameer meet, but the matured Nandini's feelings for him have changed. She reflects on the unwavering love and devotion that Vanraj showed her throughout their whole relationship, and realises that Vanraj was her true soul mate. She leaves Sameer and catches up with Vanraj.
---
Preview
---
Are you a programming or acquisition manager looking for the best Indian movies and obtaining the rights for your territory? Contact us at: + 359888308180 or Email Us