Laaga Chunari Mein Daag
Laaga Chunari Mein Daag – "Journey of a woman"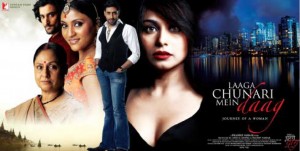 Year of release: 2007
Duration: 137 min
---
Cast: Jaya Bachchan, Rani Mukerji, Konkona Sen Sharma, Kunal Kapoor & Abhishek Bachchan
Lyrics: Swanand Kirkire
Music: Shantanu Moitra
Producer: Aditya Chopra & Pradeep Sarkar
Direction: Pradeep Sarkar
---
Synopsis
If you are a TV programming manager and you are looking for the best Indian movies, which have had a big international box office success, this is one of the best movies produced in India in the recent years.
LAAGA CHUNARI MEIN DAAG – "Journey Of A Woman"
When a small town girl Badki (Rani Mukerji) from Banaras lands in the big bad city of Mumbai to earn an honest living for her family back home – things don't go exactly as she hoped.
When her kid sister Chutki (Konkona Sen Sharma) comes face to face and her double life is revealed the 2 sisters are in a confrontation that none of them expected or would have dreamt of in their wildest dreams – the whole family is thrown in to a tumultuous storm. Everything threatens to explode in their faces leaving a trail of destruction.
---
Preview
Trailer
Song
---
Are you a programming or acquisition manager looking for the best Indian movies and obtaining the rights for your territory?
Contact us at: + 359888308180 or
Email Us