Mere Brother Ki Dulhan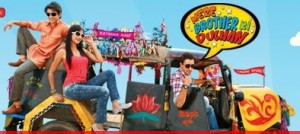 If you are a TV programming manager and you are looking for the best Indian movies, which have had a big international box office success, this is one of the best movies produced in India in the recent years.
Yash Raj Films next project, "Mere Brother ki Dulhan", starring Imran Khan, Katrina Kaif and Ali Zafar in lead roles has gone on floor. The film is written and directed by debutant Ali Abbas Zafar and produced by Aditya Chopra. Shooting started last week and the movie is scheduled for a mid-2011 release. "Mere Brother ki Dulhan" is a musical romantic comedy set amongst upper middle class families in North India. A topsy-turvy story which takes you on a fun-filled ride of humour and romance, where Imran falls in love with his brother's dulhan! The Director, Ali Abbas Zafar, has been with the Yash Raj Banner for many years and has assisted on films such as Badmaash Company, New York, Tashan and Jhoom Barabar Jhoom.
---
Cast: Imran Khan, Katrina Kaif and Ali Zafar
Producer: Aditya Chopra.
Director: Ali Abbas Zafar
---
Rights available :
Theatrical,
Home Video,
Terrestrial Television,
In-flight
Rights availability enquiry form
( Fill in this form if you are interested in obtaining the rights for this movie in your territory)
---
Year of release: 2011
Preview
Movie Trailer

Movie Song

The Mere Brother Ki Dulhan Title Song is shot widely across India including Mumbai, New Delhi and Dehradun. In the song, Imran Khan goes searching for the ideal bride for his brother. The song uses the three modes of transportation – air, road and train in a very interesting and captivating style, in his hunt for his brother's dulhan. Watch Imran at his charming best paying a delightful tribute to the three Khans – Aamir, Salman and Shahrukh.
Are you a programming or acquisition manager looking for the best Indian movies and obtaining the rights for your territory? Fill in the form below and we will come back to you with all the requested information: