Devdas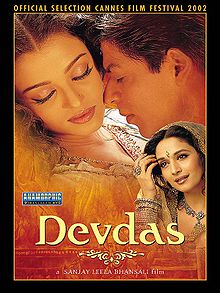 If you are a TV programming manager and you are looking for the best Indian movies, which have had a big international box office success, this is one of the best movies produced in India in the recent years.
The son of Zamindar Narayan Mukherjee, Devdas was born with a silver spoon in his mouth. He grew up in the lush village of Taj Sonapur, where he spent his childhood with his playmate Paro. They grew up sharing a special relationship. Oblivious of all the differences of status and background, a bond that would never break grew between them. Soon, Devdas is sent to London for his education. Years later Devdas returns. Devdas besotted by Paro's stunning beauty longs to marry her. But Devdas' father meets Paro's mother with condescending arrogance. It causes a rift between the families and even though Devdas tries to convince his father, his father doesn't relent. Paro then enters into a chaste marriage with a wealthy, much older man, Zamindar Bhuvan, while a shattered Devdas walks towards anguish, alcoholism and Chandramukhi, a stunning courtesan, who passionately loves him. Meanwhile, Paro, on the other hand, performs her worldly duties sincerely, but inside her, she could never forget Devdas. Strange was the fate of Devdas. Intensely loved by two women, who were never meant to be his. One whom he could never love and one whom he could never stop loving.
---
Cast:
:Aishwarya Rai, Ananya Khare, Dina Pathak, Jackie Shroff, Jaya Bhattacharya, Kirron Kher, Madhuri Dixit, Manoj Joshi, Milind Gunaji, Shahrukh Khan, Smita Jaykar, Tiku Talsania, Vijayendra Ghatge
Director: Sanjay Leela Bhansali
Genre: Romance
---
Rights available :
Theatrical,
TV – terrestrial
TV – cable
TV – satellite
DVD

Rights availability enquiry form
( Fill in this form if you are interested in obtaining the rights for this movie in your territory)
---
Number 9 in International box office sales
Source:Box Office India
---
Year of release: 2002
Duration: 183 minutes.
Preview
Movie Trailer
Movie Song
Movie Song
Gallery
Are you a programming or acquisition manager looking for the best Indian movies and obtaining the rights for your territory? Fill in the form below and we will come back to you with all the requested information: