Drona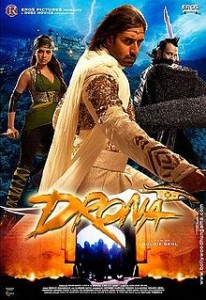 If you are a TV programming manager and you are looking for the best Indian movies, which have had a big international box office success, this is one of the best movies produced in India in the recent years.
Rooted in the vibrant tapestry of Indian mythology, Drona is the compelling modern tale of one man's spectacular voyage through the labyrinths of mystic myths and legendary legacies. Of a journey that will force him to face his fears and make him the hero he was born to become.
From the times, when time itself was a newborn baby, the universe has kept one secret carefully camouflaged within its folds. A secret, which if unraveled, could unlock the destruction of mankind and the entire cosmos.
Today, only one man can protect the universe's precious secret and thus, save the human race from absolute annihilation.
---
Cast: Abhishek Bachchan, Priyanka Chopra, Kay Kay Menon, Jaya Bachchan
Music: Dhruv Ghanekar
Producer: Shrishti Arya, Sunil Lulla
Direction: Goldie Behl
---
Rights available :
Theatrical,
Home Video,
Terrestrial Television,
In-flight
Rights availability enquiry form
( Fill in this form if you are interested in obtaining the rights for this movie in your territory)
---
Year of release: 2008
Duration:
---
Preview
Movie Trailer
Movie Song
Gallery
---
Are you a programming or acquisition manager looking for the best Indian movies and obtaining the rights for your territory? Fill in the form below and we will come back to you with all the requested information: