Heroes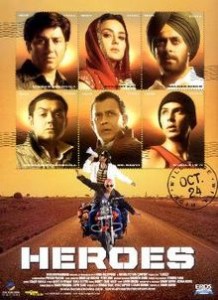 If you are a TV programming manager and you are looking for the best Indian movies, which have had a big international box office success, this is one of the best movies produced in India in the recent years.
Two film academy students, Ali (Vatsal Sheth) and Sameer (Sohail Khan), must make a movie in order to graduate. They choose to create a documentary illustrating reasons not to join the Indian Armed Forces, and go on a motorcycle road trip bearing three letters they have been given to deliver — each from a slain soldier to his family.
On their first stop, in Atari, Amritsar, they meet the widow, Kuljeet Kaur (Preity Zinta), and the son, Jassi, of a Sikh soldier, Balkar Singh (Salman Khan), who was killed in action three years earlier. The students find that the entire village is greatly proud of the heroic officer and his sacrifice for country. The students' second stop, Himachal, finds them meeting the wheelchair-using former Air Force pilot Vikram Shergill (Sunny Deol), whose Army officer brother, DJ (Bobby Deol), had also been KIA. There they see that Vikram Shergill is very proud of his brother's sacrifice for his country. Finally, back in Leh, the duo meet the parents, Dr. and Mrs. Naqvi, whose son Sahil (Dino Morea) had also died for his country. After bringing Dr. Naqvi's (Mithun Chakraborty) life back to normal, they finally end their filming. After meeting all three families they realized that being a soldier is all about proud love for one's motherland.
Years later, Jassi (also played by Salman Khan), now a man and a soldier himself, visits Ali and Sameer at the military academy the two former film students had founded after failing multiple times in army entrance test.
---
Cast: Salman Khan, Sunny Deol, Bobby Deol, Preity Zinta, Sohail Khan, Mithun Chakraborty, Vatsal Seth
Music: Sajid-Wajid, Monty Sharma
Producer: Bharat Shah, Vikas Kapoor, Samir Karnik
Director: Samir Karnik
---
Rights available :
Theatrical,
Home Video,
Terrestrial Television,
In-flight
Rights availability enquiry form
( Fill in this form if you are interested in obtaining the rights for this movie in your territory)
---
Year of release: 2008
Preview
Movie Trailer
Song of the Movie
Gallery
Are you a programming or acquisition manager looking for the best Indian movies and obtaining the rights for your territory? Fill in the form below and we will come back to you with all the requested information: