Lucky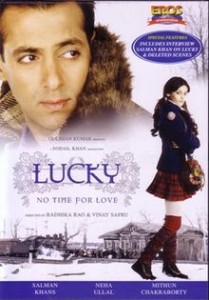 If you are a TV programming manager and you are looking for the best Indian movies, which have had a big international box office success, this is one of the best movies produced in India in the recent years.
Lucky Negi (Sneha Ullal) is the quintessential dreamer, soft, beautiful and gentle. Her one big belief, that if you search from the bottom of your heart then you can find the rainbow, not just the rainbow but also the pot of gold at the end of the rainbow. One calm "Petersbergian" morning Lucky's riding to school and calling on all her guardian angels to grant her a miracle, a tweeny weeny, itsy bitsy one putting it in her words, "Please God I wish from the bottom of my heart that school is shut today".
But sometimes our deepest wish can turn into our worst nightmare and that is what happens with Lucky. Her journey to school becomes her most desperate journey of survival. Caught unawares by an unexpected wave of insurgency in Eastern Europe, Lucky tries to flee to safety. As the dread and fear overtake she meets a stranger, a fellow countryman Aditya Sekhri (Salman Khan). Aditya is smart, wicked, witty, charming and true blue sophisticate.
Then begins an unforgettable journey from highways and moldy cemeteries to abandoned theaters and icy snowdrifts. A journey where violence and tragedy stalk them constantly and where there is little time for talk and survival comes only from being constantly at guard. As they march through savage ambushes and the icy wilderness of a foreign land, they discover the limits of their endurance, and more importantly love.
---
Cast: Salman Khan, Sneha Ullal, Mithun Chakraborty
Music: Adnan Sami
Producer: Sohail Khan, Bhushan Kumar, Krishan Kumar
Direction: Radhika Rao, Vinay Sapru
---
Rights available :
Theatrical,
Home Video,
Terrestrial Television,
In-flight
Rights availability enquiry form
( Fill in this form if you are interested in obtaining the rights for this movie in your territory)
---
Year of release: 2005
Duration: 142 minutes.
---
Preview
Movie Trailer
Movie Song
Gallery
---
Are you a programming or acquisition manager looking for the best Indian movies and obtaining the rights for your territory? Fill in the form below and we will come back to you with all the requested information: