Dor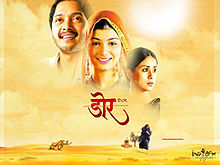 If you are a TV programming manager and you are looking for the best Indian movies, which have had a big international box office success, this is one of the best movies produced in India in the recent years.
Zeenat (Gul Panag) is an independent Muslim woman living in Himachal Pradesh. She agrees to marry Amir Khan, her boyfriend despite his parents' reservations. After their marriage, her husband leaves for Saudi Arabia to begin with a new employment.
Meera (Ayesha Takia), a simple Rajasthani Hindu woman, has everything in her life in accordance with customs and traditions: her formative years, her recent marriage into a traditional Rajasthani family and her daily chores within the walls of her haveli. Coincidentally, her husband is also away to Saudi Arabia, his new workplace. Meera finds it tough without her husband, Shankar, but they manage to stay in touch despite the geographical distance. Shankar regularly kept sending his wages back home so as to support his family that included his father, Randhir Singh (Girish Karnad), mother, Gowri Singh (Prateeksha Lonkar), his paternal grandmother (Uttara Baokar) and his wife, Meera. One day, Meera does not find the periodic remittance from Shankar. Time passes by and when there are neither any further remittances nor any correspondence from her husband, Meera gets worried. When frantic inquiries are made, she is devastated to know that Shankar was killed in a freak accident that was allegedly caused by his Muslim roommate.
When the news of the imminent death sentence arrives, Zeenat is compelled to tell the truth to Meera. Meera is shocked beyond belief to hear Zeenat's words and the fact that her friendship has been betrayed is what hurts her more. She immediately refuses to sign the maafinama (translation: statement of forgiveness) and leaves for the haveli. Zeenat, initially, is deeply hurt to know of Meera's decision, but eventually accepts it as fate and decides to leaves for her hometown. Shankar's paternal grandmother empathizes with Meera when she breaks this news to her and she suggests her to look beyond what happened. Besides this, since Meera was "traded" by Singh, she gets encouraged by the grandmother's words and hurries towards the railway station, where she meets Zeenat. It is then assumed that Zeenat's journey to save Amir's life was successful and that Meera was equally successful in beginning a fresh life.
---
Cast: Ayesha Takia, Gul Panag, Shreyas Talpade, Girish Karnad, Uttara Bhavkar, Prateeksha Lonkar
Music: Salim Merchant, Sulaiman Merchant
Producer: Elahe Hiptoola
Direction: Nagesh Kukunoor
---
Rights available :
Theatrical,
Home Video,
Terrestrial Television,
In-flight
Rights availability enquiry form
( Fill in this form if you are interested in obtaining the rights for this movie in your territory)
---
Year of release: 2006
Duration: 147 minutes.
---
Preview
Movie Trailer
Movie Song
Gallery
---
Are you a programming or acquisition manager looking for the best Indian movies and obtaining the rights for your territory? Fill in the form below and we will come back to you with all the requested information: