Sarkaar Raj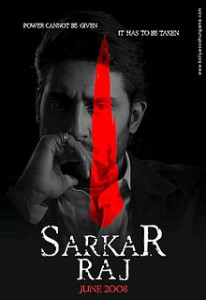 If you are a TV programming manager and you are looking for the best Indian movies, which have had a big international box office success, this is one of the best movies produced in India in the recent years.
Anita Rajan (Aishwarya Rai), wants to set up a power plant in Maharashtra. It's not so easy, for she has to convince Subhash Nagra (Amitabh Bachchan), popularly known as Sarkar. He is a sort of Godfather, a Robin Hood. He doesn't think the power plant should be set up in rural Maharashtra, considering that several thousands of people would have to be relocated. He refuses to accept the deal.
A dismayed Anita tries to speak to Sarkar's son, Shankar (Abhishek Bachchan). He is of the opinion that the plant will help in the state's development. While he tries to get the public's support for this multi-million dollar project, the whole situation gets out of hand, what with political parties' involvement, and indiscriminate violence all over.
---
Cast: Amitabh Bachchan, Abhishek Bachchan, Aishwarya Rai, Dilip Prabhavalkar, Supriya Pathak
Music: Bapi Tutul
Producer: Ram Gopal Varma, Praveen Nischol
Direction: Ram Gopal Varma
---
Rights available :
Theatrical,
Home Video,
Terrestrial Television,
In-flight
Rights availability enquiry form
( Fill in this form if you are interested in obtaining the rights for this movie in your territory)
---
Year of release: 2008
Duration:
---
Preview
Movie Trailer
Movie Song
Gallery
---
Are you a programming or acquisition manager looking for the best Indian movies and obtaining the rights for your territory? Fill in the form below and we will come back to you with all the requested information: