Shabd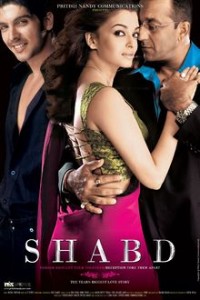 If you are a TV programming manager and you are looking for the best Indian movies, which have had a big international box office success, this is one of the best movies produced in India in the recent years.
Shaukat (Sanjay Dutt) is a Booker Prize-winning writer, whose latest work has been criticised by one and all for being too surreal for anyone's liking. Antara (Aishwarya Rai), his wife, supports him nevertheless.
Shaukat has some weird plans for his next book though. He decides to manufacture a realistic story by making Antara hide her marital status from Yash (Zayed Khan) and pursue a relationship with him. Things go wrong as Antara begins to have real feelings for Yash. (She still loves Shaukat though.)
Whatever Shaukat pens turns out to be true. He starts to believe he can change Antara's and Yash's fate by his writings, and writes according to his logic that Yash would commit suicide after getting to know Antara's reality. However, Antara soon comes to know of this. She lies to Shaukat that Yash really committed suicide in order to disillusion Shaukat. Shaukat, out of guilt, becomes schizophrenic. The film ends on a disturbing note: Antara sends Shaukat to an asylum, due to his schizophrenia.
---
Cast: Sanjay Dutt, Aishwarya Rai, Zayed Khan
Music: Vishal-Shekhar
Producer: Pritish Nandy Communications
Direction: Leena Yadav
---
Rights available :
Theatrical,
Home Video,
Terrestrial Television,
In-flight
Rights availability enquiry form
( Fill in this form if you are interested in obtaining the rights for this movie in your territory)
---
Year of release: 2005
Duration:
---
Preview
Movie Trailer
Movie Song
Gallery
---
Are you a programming or acquisition manager looking for the best Indian movies and obtaining the rights for your territory? Fill in the form below and we will come back to you with all the requested information: