Mujhse Dosti Karoge
Mujhse Dosti Karoge – "He's the One"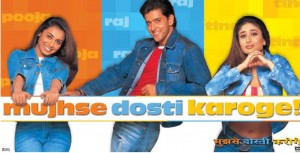 Year of release: 2002
Duration: 149 min
---
Cast: Hrithik Roshan, Rani Mukerji, Kareena Kapoor, Satish Shah, Kiran Kumar, Smita Jayakar, Himani Shivpuri & Sachin Khedekar
Special Appearance: Uday Chopra
Lyrics: Anand Bakshi
Music: Rahul Sharma
Producer: Yash Chopra
Director: Kunal Kohli
---
Number 50 in International box office sales
Source:Box Office India
---
Synopsis
If you are a TV programming manager and you are looking for the best Indian movies, which have had a big international box office success, this is one of the best movies produced in India in the recent years.
What would you do if the one you loved was not actually the one you loved.
What would you do if your best friend was in love with the one you love.
What would you do if your best friends are sacrificing their love for you.
Meet Raj, Pooja and Tina – 3 best friends thrown into a situation that time, letters, love and separation have created for them.
Friendship…. Beginning of every relationship ends in love. And love. Well it can have only 2 ends. A happy and a sad one.Or can there be a third ending for these three friends.
---
Preview
Song from the Movie
Movie synopsis
---
Are you a programming or acquisition manager looking for the best Indian movies and obtaining the rights for your territory? Contact us at: + 359888308180 or Email Us