Thoda Pyaar Thoda Magic
Thoda Pyaar Thoda Magic – "A Little Love, A Little Magic"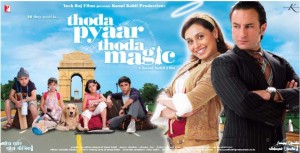 Year of release: 2008
Duration: 137 min
---
Cast: Saif Ali Khan, Rani Mukerji, Rishi Kapoor & others
Lyrics: Prasoon Joshi
Music: Shankar-Ehsaan-Loy
Producers: Aditya Chopra & Kunal Kohli
Director: Kunal Kohli
---
Synopsis
If you are a TV programming manager and you are looking for the best Indian movies, which have had a big international box office success, this is one of the best movies produced in India in the recent years.
THODA PYAAR THODA MAGIC – "Lil Love Lil Magic"
In a rare landmark court verdict, business tycoon Ranbir (Saif Ali Khan) is sentenced to raise the very children whose parents he killed in an accident.
The orphans hate him and want revenge. When Ranbir & the children pray for divine intervention – Geeta (Rani Mukerji) was not what they had in mind. The Big Man above sends a mischievous, childlike, lovable angel to the rescue, with a mission to bring Ranbir and the kids together.
And then starts the roller coaster ride of fun, emotions, magic and love.
An angel who doesn't know what love is.
A man who always lost love.
Four orphans who need love.
All come together to bring you a film with fun, excitementi, tears, love & magic
---
Preview
Movie Trailer
Song from the Movie
Are you a programming or acquisition manager looking for the best Indian movies and obtaining the rights for your territory? Contact us at: + 359888308180 or Email Us