Rockstar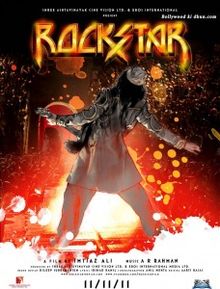 If you are a TV programming manager and you are looking for the best Indian movies, which have had a big international box office success, this is one of the best movies produced in India in the recent years.
The film opens with Janardhan Jakhar a.k.a JJ/Jordan (Ranbir Kapoor) making a rock star entrance, in a stadium concert in Prague. Janardan, born and brought up in the very middle class locality of Pitampura in Delhi, has a larger than life dream of being a rockstar like Jim Morrison. But all he gets from his reluctant audience is ridicule and humiliation. His College canteen head makes him realize that all musicians, or all artists in fact, have one thing in common. That is "tragedy" and they all have suffered painful heartbreaks to become what they are. Whereas Janardhan resents the fact that he has no pain in his life. Hoping to pursue pain, Janardan flirts with serial heart-breaker and college hottie, Kashmiri girl Heer Kaul (Nargis Fakhri). While Heer refuses his proposal, with Janardan trying to be heart-broken. However both Janardhan and Heer get friendly following several awkward proposals, with both bonding over doing wild things like drinking desi alcohol, watching B-grade porn in seedy theatre halls, etc.
It's Heer's wedding in Kashmir, with Janardhan helping her out in Shopping, etc after they enjoy a bike ride in Kashmir. The wedding leads to Heer's departure to Prague with her husband (Moufid Aziz). Janardhan is however clobbered and thrown out of his house by his brother for attending Heer's wedding and for a robbery he hasn't committed. He takes refuge for two months in Nizamuddin Dargah where he spends some time making a living babbling bhajans, followed by taking refuge in his college canteen head's home.
A classical singer, Ustad Jameel Khan (Shammi Kapoor), hears him singing one day and prompts Dhingra (Piyush Mishra), the owner of a music company, to sign him as he foresees a great future for him. Janardhan's work is now being looked after by his sympathiser, Khatana. Janardhan Jakhar becomes Jordan, a revolutionary solo artist, as he heads to Prague for a song recording, where reunites with Heer. After few dance and songs to amuse the country's tourism board, Jordan and Heer finally intimate. Heer also suffers from psychiatric issues and is finally diagnosed with a form of terminal bone marrow cancer.
Jordan on departing to India, he attempts to say "bye" to Heer, where he is arrested by Cops for trespassing on Heer's property. He is then brought to India, with media putting himself in bad light. Being frustrated, Jordan clashes media persons and Indian Police and later is sent to jail. Dhingra, owner of Platinum Music, is happy about the publicity he had got because of Jordan. Soon he records typical Indian music songs along with Ustad Jameel Khan. Before his live perfomance, he receives a call from Mandy (Heer's younger sister) asking him to help Heer as the later is seriously unwell. Neena Kaul (Shernaz Patel) angry on her daughter's plan, asks Jordan to leave her house. For her surprise, Heer recovers because of Jordan and so they fly again from Prague to India along with her sister. On reaching, Jordan again clashes with media people as they link him with Heer, stating that she is already married to another person. Heer and Mandy depart for Prague, however her body condition worsens as she reaches coma stage, with shockingly pregnant because of Jordan. He is called to Prague again by Mandy hoping that she recovers but doesn't. The film ends with Jordan performing "Nadaan Parindey", as he feels Heer is with him in the stage, however not.
---
Cast: Ranbir Kapoor, Nargis Fakhri, Shammi Kapoor
Music: A. R. Rahman
Producer: Shree Ashtavinayak, Cine Vision Ltd, Eros International
Director: Imtiaz Ali
---
Rights available :
Theatrical,
Home Video,
Terrestrial Television,
In-flight
Rights availability enquiry form
( Fill in this form if you are interested in obtaining the rights for this movie in your territory)
---
Year of release: November 11
Duration:
Preview
Movie Trailer
Movie Song
Gallery
Are you a programming or acquisition manager looking for the best Indian movies and obtaining the rights for your territory? Fill in the form below and we will come back to you with all the requested information: