Zindagi Na Milegi Dobara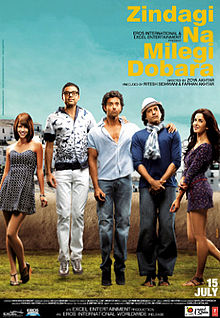 If you are a TV programming manager and you are looking for the best Indian movies, which have had a big international box office success, this is one of the best movies produced in India in the recent years.
At the beginning of the the film, Kabir (Abhay Deol) proposes to Natasha (Kalki Koechlin). Their families meet at the engagement party. At the party, Natasha learns that Kabir is planning a three-week bachelor road trip to Spain with his high school friends Imraan (Farhan Akhtar) and Arjun (Hrithik Roshan). Kabir explains to her that the three have a long-standing pact, and that during the road trip each one wil pick an adventure sport to try together. Arjun, however, is reluctant to take part in the trip due to his workaholism and obsession with money. It is revealed that Arjun's ex-girlfriend had left him due to these obsessions. Imraan has an additional personal agenda on the trip – to find his biological father Salman Habib (Naseeruddin Shah), an artist in Spain.
The trio set off to Spain, where they plan to visit the Costa Brava, Seville and Pamplona. They meet Laila (Katrina Kaif), who is American-Indian. Imraan flirts with her, which makes Arjun jealous. Kabir reveals that he has chosen deep sea diving as their first sport, and they find out that Laila is their diving instructor. Arjun, who cannot swim and is aquaphobic, receives assistance from Laila. She helps him overcome his fears and he begins to fall in love with her. They attend the La Tomatina festival held in Buñol with Laila, where they meet Nuria (Ariadna Cabrol), who falls for Imraan. Meanwhile, Natasha, who has grown suspicious of Kabir's involvement with Laila, surprises Kabir by crashing his bachelor party trip. Imraan spends time with Nuria and Arjun with Laila. After the boys leave, Laila realizes she has fallen in love with Arjun and chases them until she catches up. She and Arjun express their feelings with a passionate kiss.
Arjun, Imraan and Kabir visit Seville for sky diving, as per Arjun's choice. Imraan is forced to confront his acrophobia. After skydiving, the three men go to a bar and get into a fight with a stranger on whom they tried to pull a prank. They are jailed after the fight. Salman, Imraan's father, bails them out and takes them to his home. While speaking with Imraan, Salman reveals that he never wanted a settled life or kids, while Imraan's mother did. Kabir admits to Arjun and Imraan that he is not ready for marriage, but is reluctant to call off the wedding for fear of breaking Natasha's heart.
The trio leave Salman's house for their final adventure: the bull run at Pamplona. Imraan suggests they make a pact to keep their promises if they survive the event. Imraan vows to publish his poetry, Arjun vows to visit Morocco with Laila, and Kabir vows to tell Natasha that he is not ready to marry. The friends gain a renewed sense of their relationships with each other, with others they know, and with themselves.
As the credits roll, Imraan, Kabir, Nuria and Natasha are shown attending the wedding of Arjun and Laila in Morocco, where it is revealed that Kabir and Natasha did not marry.
---
Cast: Hrithik Roshan, Abhay Deol, Farhan Akhtar, Katrina Kaif, Kalki Koechlin
Music: Shankar-Ehsaan-Loy
Producer: Farhan Akhtar, Ritesh Sidhwani
Director: Zoya Akhtar
---
Rights available :
Theatrical,
Home Video,
Terrestrial Television,
In-flight
Rights availability enquiry form
( Fill in this form if you are interested in obtaining the rights for this movie in your territory)
---
Year of release: 15th July 2011
Duration: 153 mins
Preview
Movie Trailer
Movie Song
Gallery
Are you a programming or acquisition manager looking for the best Indian movies and obtaining the rights for your territory? Fill in the form below and we will come back to you with all the requested information: