Kyunki Saas Bhi Kabhi Bahu Thi
Kyunki Saas Bhi Kabhi Bahu Thi" – "Because a mother-in-law was once a daughter-in-law, too"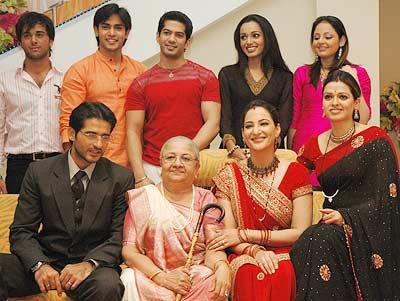 Running successfully in Kazakhstan
---
Episodes
1833
Duration
30'
Total Hours
916.30
---

Synopsis
Kyunki Saas Bhi Kabhi Bahu Thi – Because a Mother-in-law was once a Daughter-in-law too was Asia's #1 Most Watched and Awarded show. It also made records of getting the highest Television Rating Point for more than 8 years.
Meet Govardhan Virani. A powerful industrialist, Govardhan lives with his wife, three sons, daughters-in-law and grandchildren, in his family home, ironically named Shantiniketan. Ironically, because his three daughters-in-law – Savita, Daksha and Gayatri – love nothing better than to put the rest of the family through trying times.
To make matters worse, Mihir, the eldest grandson, marries Tulsi, the daughter of the poor family pujari. Tulsi is made the target of much ridicule, till she decides to give her three mothers-in-law – Savita, Daksha and Gayatri – as good as she gets it from them.
Kyunki Saas is about Tulsi's battle to teach the trio a lesson. Packed into this are four weddings – of Tulsi-Mihir, Sejal-Anand, Kiran-Aarti and Suhasi-Rakesh. And a funeral – Mihir's.
Or is it really a funeral? Because Mihir is not really dead – he just has a bad case of amnesia. And he manages to return just in time to save his wife from getting married again. Will the newly-forged positive relationship between Savita and Tulsi remain intact? Will Mandira, the doctor who nursed Mihir back to health, ever realise and accept that he can never be hers? And what is to become of Mihir's relationship with Mandira?
KSBKBT's MIHIR'S death episode become World's one of the most watched episode, by breaking all previous world TRP (Television Rating Points/Popularity) Records.
---

You can watch a video presentation and synopsis of the series here:
---
Preview:
Are you an acquisition, programming manager or distributor and interested in obtaining the rights for these series for your territory? Contact us at: + 359888308180 or Email Us