Main Lakshmi Tere Aangan Ki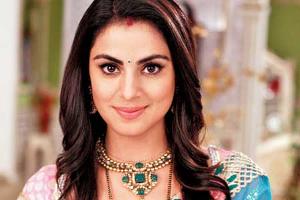 Running successfully in Pakistan
---
Episodes
258
Duration
30'
Total Hours
129
---

Synopsis
This is the story of a middle class woman named Lakshmi. She wants money because her mother died of pneumonia since they couldn't afford her treatment. Her aunt never married because they couldn't afford it. She dreams of marrying Arjun Agnihotri. But, she's only seen Arjun once, when she was 9. She doesn't know what he looks like today, because he went to London for 10 years to study. During one of the initial meetings between Arjun and Lakshmi, Arjun learns about Lakshmi's dream of marrying Arjun and becoming rich. In the course of time, Arjun falls in love with Lakshmi but keeps his identity secret under the disguise of Ajay Sharma.
A year later, Arjun and Lakshmi's daughter Jiyana is born. Lakshmi dies shortly after. Seven years later a young woman named Kaanchi whose look and behaviour is like Lakshmi is introduced. She helps her family run a restaurant. Arjun emphasizes that he will not remarry. Kaanchi says that until she makes her dreams of hers being the best Thali restaurant in Kanpur and establishes her chain of restaurants she won't marry.
Kaanchi and her family go to the mall to purchase items due to discount on 15 August. Jiyana also comes to the mall. A group of thieves steal her chain in which a picture of Arjun and Lakshmi is kept. Kaanchi sees Jiyana chasing the thieves and helps Jiyana get her chain back. Jiyana is astonished that Kaanchi looks like Lakshmi. Bua and Jiyana find Kaanchi in her restaurant. Jiyana and Bua invite Kaanchi to see Arjun under the pretext of bringing a delivery. However, their plan fails when Arjun goes to the washroom when Kaanchi is about to go home.
Kaanchi takes her leave from the Agnihotri family. Jiyana sobs at hearing the news. Kaanchi entreats an explanation from Aditya who fancies her to love somebody else. Arjun sees Kanchi sad and helps her getting Aditya back by giving her a makeover. Arjun pretends to be Kanchi's boyfriend to make Aditya jealous. Meanwhile Kasnchi sees that she is Lakshmi's look-alike.
Due to a marriage hall shortage, Kaanchi and Aditya's family come to Agnihotri Mansion for their wedding. During the event Arjun tries not to show that he started loving Kaanchi; on the other side, Kaanchi realizes that she loves Arjun. When Arjun is leaving for US, Kaanchi gets up from the mandap and runs behind Arjun to stop him and tells him that she loves him.
---
---
Series synopsis and video preview:
Are you an acquisition, programming manager or distributor and interested in obtaining the rights for these series for your territory? Contact us at: + 359888308180 or Email Us