Karma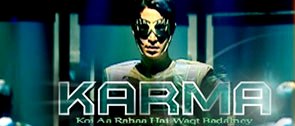 If you are a TV programming manager and you are looking for the best rating Indian TV series, this is one of the series which achieved the highest rating in India in 2013.
Karma is a true super hero created to withstand the onslaught of the demonic forces of Markesh.
Markesh is the evil force that desires to conquer the world, spread his dominion over humans and ultimately destroy the very existence of God from people's mind.
When Markesh's tyrannical ways start exceeding the limits, a child is born who is God's chosen one to fight the dark forces of Markesh – Karma.
Markesh sends his men to crush Karma, but he underestimates the powers of the hero.
His villains range from demonic creatures to cold-blooded killers that have wrecked havoc on 'Pinaki City'. Karma fights these evil forces, making him more and more determined to destroy any threat to the innocent people of the city.
And the battle between good and evil rages on.
---
Rights available :
Terrestrial Television,
Cable and satellite,
Video / DVD,
VOD,
Mobile,
In-flight
Rights availability enquiry form
( Fill in this form if you are interested in obtaining the rights for this TV series in your territory)
---
Episodes
26
Duration
60'
Total Hours
26
---
Preview:
---
Are you an acquisition, programming manager or distributor and interested in obtaining the rights for these series for your territory? Fill in the form below and we will come back to you with all the requested information:
Clients have also purchased these series: