Aarambh
"Aarambh" – "The Beginning"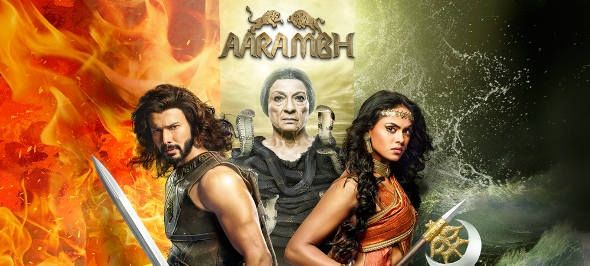 ---
Episodes
24
Duration
60'
Total Hours
24
---

Synopsis
Aarambh is a pure fantasy fiction and war epic drama set at the backdrop of 2 civilizations. Aryans, an Adrenaline driven race of nomadic conquerors, and the Dravidians, a civilization known for its culture steeped in strength.
Circumstances force Varundev (Aaryans) and Princess Devsena (Dravidians) to enter the arena to fight each other from their respective sides. But the two enemies fall in love with each other. Bound by their circumstances they still choose to fight. Towards the end of the dual they both confess their love and end up killing each other.
A few generations pass, Aryans are now the dominant force, and the birth of two newborns will determine the future of the both the kingdoms, and Devasena is reborn as Kaveri, Varundev is reborn as Jaldev.
While Kaveri is pursuing her dream of destroying the enemy, she happens to come across Jaldev. He is now the senior senate in the army, very loyal towards his kingdom. Sparks fly when they meet. With the passage of time they become aware of their unfulfilled destiny.
But, will Kaveri and Jaldev succeed in fulfilling their destiny?
THE END… or is it just the beginning?
---
Preview:
Are you an acquisition, programming manager or distributor and interested in obtaining the rights for these series for your territory? Contact us at: + 359888308180 or Email Us