Pratigya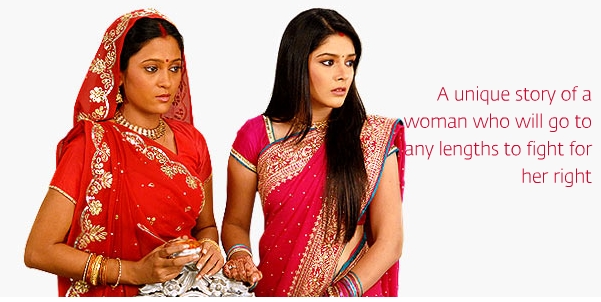 If you are a TV programming manager and you are looking for the best rating Indian TV series, this is one of the series which achieved the highest rating in India in 2013.
"Pratigya" – "Vow"
Love stories happen when two people have the same feeling towards each other of liking, desire and passion. But this is a love story of two people who are together for all the wrong reasons. A boy who doesn't understand the meaning of love but desires to acquire whatever he sets a liking for and a girl who is helpless and can save herself and her family by giving into his demands.
The story is based in a small town of Allahabad, where the smallest thing happening in one's house is known to everyone.
People here lead a very careful life especially women. Man dominating the house, college and society is so common that now nobody is complaining but have accepted it as a part of their lives and try find happiness in the remains.
Same is not the story of Saxena family. Though they have their values and tradition in place but they believe in educating their daughters without any hesitation. Pratigya and Arushi consider themselves lucky to be born in this family. Their father has left no stones unturned to provide his daughters same education as he has provided to his son, despite of relatives and society pressure. They are a closely knit family.
Like every other girl Pratigya also goes out for shopping or meeting her friends, unaware that one of the local goon- Krishna has developed liking towards her. Krishna is an unrefined boy who hangs out with a couple of his friends and loitering around the town being a nuisance.
From the day he has seen Pratigya, his day and nights revolved around her existence. Krishna's friends too have started considering Pratigya as their Bhabhi making sure that nobody troubles her.
Pratigya doesn't even see eye to eye with Krishna. He doesn't exist for her. She is unaware of the troubles Krishna creates for others if they are unkind or extra nice to her. Krishna with full right makes Pratigya's life his business. His obsession towards Pratigya doesn't take long for Pratigya and her family to realize that there is some guy who is after her. The family decides to get Pratigya married soon and Pratigya also willingly agrees for it.
What will happen when Krishna finds out about Pratigya's marriage with someone else?
---
Rights available :
Terrestrial Television,
Cable and satellite,
Video / DVD,
VOD,
Mobile,
In-flight
Rights availability enquiry form
( Fill in this form if you are interested in obtaining the rights for this TV series in your territory)
---
Episodes
767
Duration
30″
Total Hours
390.30
---
Preview:

---
Gallery
---
View additional Pratigya series information on Star TV
---
---
Are you an acquisition, programming manager or distributor and interested in obtaining the rights for these series for your territory? Fill in the form below and we will come back to you with all the requested information: