Bachna Ae Haseeno
Bachna Ae Haseeno – "Caution Ladies! Love Ahead"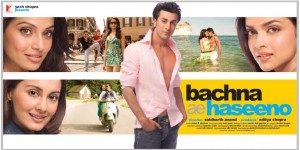 Year of release: 2008
Duration: 148 min
---
Cast: Ranbir Kapoor, Bipasha Basu, Minissha Lamba & Deepika Padukone
Lyrics: Anvita Dutt Guptan
Music: Vishal & Shekhar
Producer: Aditya Chopra
Director: Siddharth Anand
---
Synopsis
If you are a TV programming manager and you are looking for the best Indian movies, which have had a big international box office success, this is one of the best movies produced in India in the recent years.
BACHNA AE HASEENO – "Caution Ladies! Love Ahead"
Why do girls always fall for the wrong guy? Their mothers warn them about him. Their friends shake their heads disapprovingly. Their minds tell them to escape while the going is good. But no! oh no! Their hearts are another story. You see, they are sending all the wrong signals. His name alone is enough to scramble their brains and set their hearts racing.
Meet Raj. He is the stuff of dreams, with the looks of a 'butter wouldn't melt in my mouth' good boy.
Who can blame him for falling in love as many times as love is fortunate enough to find him. It's not his fault that he's a heartbreaker, it's in his DNA.
Come discover his three love stories; Raj and Mahi, Raj and Radhika, Raj and Gayatri.Different ladyloves at different times in his life. And each of them, teach him a little bit about love and a little bit about life, in their own sweet, sexy or sassy way.
Come fall in love… three times.
---
Awards
SCREEN AWARDS
1. Best Playback Singer (Male) – KK (Khuda Jaane…)
2. Best Playback Singer (Female) – Shilpa Rao (Khuda Jaane…)
3. Best Lyrics – Anvita Dutt Guptan (Khuda Jaane…)

LI'L STAR AARD
Most Colorful Costumes – Aki Narula
---
Preview
Movie Trailer
Song from the Movie
---
Are you a programming or acquisition manager looking for the best Indian movies and obtaining the rights for your territory?
Contact us at: + 359888308180 or
Email Us