Dhoom 3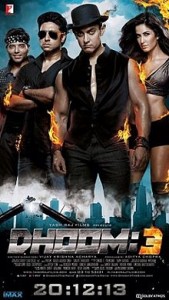 Year of release: 2013
Duration: 146 minutes.
---
Cast: Aamir Khan, Abhishek Bachchan, Katrina Kaif, Uday Chopra, Jackie Shroff
Music: Original songs:
Pritam
Background sco
Producer:Aditya Chopra
Direction:Vijay Krishna Acharya
---
Synopsis
The film starts in the year 1990 when Iqbal Haroon Khan (Jackie Shroff) runs a circus – The Great Indian Circus – in Chicago, which has fallen on bad times. Anderson's (Andrew Bicknell) bank – Western Bank of Chicago – which has lent money to Iqbal Khan, decides to close down the circus when he is unable to repay the loan. Young Sahir (Siddharth Nigam), the little son of Iqbal Khan, pleads with Anderson not to shut down his father's circus as he and his father would soon be able to turn the corner. But Iqbal Khan's presentation before the bankers and Sahir's pleas don't help. Iqbal Khan commits suicide in front of the heartless Anderson, leaving Sahir devastated.
Years later, Sahir (Aamir Khan) has still not forgotten the high-handedness of the bank and swears revenge. He robs various branches of Western Bank of Chicago, leaving behind a message in Hindi and a clown mask. He uses his acrobatic circus skills to escape. As Chicago Police Officer Victoria (Tabrett Bethell) failed to catch him, she calls ACP Jai Dixit (Abhishek Bachchan) and his partner, Ali (Uday Chopra), for help in solving the case.
---
Preview
Movie Trailer
Moview Song
Are you a programming or acquisition manager looking for the best Indian movies and obtaining the rights for your territory? Contact us at: + 359888308180 or Email Us