Ek Tha Tiger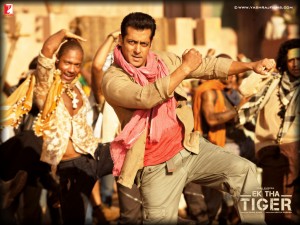 Year of release: 2012
Duration: 133 minutes.
---
Cast: Salman Khan, Katrina Kaif, Ranvir Shorey, Girish Karnad, Roshan Seth
Music: Sohail Sen
Producer: Aditya Chopra
Direction: Kabir Khan
---
Synopsis
The film begins with an agent code-named "Tiger" (Salman Khan) conducting a mission in northern Iraq. India's top spy and an officer of India's Research and Analysis Wing (RAW), Tiger is forced to kill one of his own men who has defected to Pakistan's Inter-Services Intelligence (ISI). He subsequently kills many ISI agents in his escape, which is accompanied by a barrage of gunshots and a chase sequence.
Tiger reports to Shenoy (Girish Karnad) in New Delhi upon his return. He is immediately sent on a mission to Dublin, Ireland, to observe a scientist of Indian origin, Professor Kidwai (Roshan Seth), who teaches at the Trinity College and is suspected of sharing his findings with the Pakistan defense establishment. Fellow RAW agent Gopi (Ranvir Shorey) accompanies Tiger on this mission. Tiger fails at his attempts to meet the scientist, and instead meets the scientist's caretaker Zoya (Katrina Kaif), who is studying at a dance academy. He tries to befriend Zoya, and he begins to discover his human side as he grows closer to her. Despite repeated warnings from Gopi not to fall in love, Tiger does so for the first time in his life. Later he founds that Originally she is ISI Agent. Inspite of killing her he order her to go back. By a message sent to him from Zoya they meet newly and decide to leave everything for their love & then begins a journey that Tiger and Zoya embark upon, battling the dark world of intelligence and espionage that forbids them from falling in love and takes them from Dublin to Istanbul, Kazakhstan and Cuba.
---
Preview
Movie Trailer
Movie Song
---
Are you a programming or acquisition manager looking for the best Indian movies and obtaining the rights for your territory? Contact us at: + 359888308180 or Email Us