Veer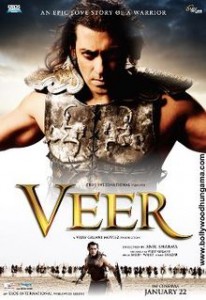 If you are a TV programming manager and you are looking for the best Indian movies, which have had a big international box office success, this is one of the best movies produced in India in the recent years.
Veer Pratap Singh (Salman Khan) is a Pindari Prince and the son of the great Pindari warrior, Prithvi Singh (Mithun Chakraborty), who was known for his great battles to free India from British rule. Veer wishes to continue his father's legacy by leading a movement of Pindaris against the British in order to free both the Rajasthani Kingdom of Madhavghar and the rest of India from the great colonial power. Veer receives the help of his younger brother, Punya Singh (Sohail Khan) in gathering together an army. However Veer finds opposition from the King of Madhavghar, Gyanendra Singh (Jackie Shroff), who sees Veer as a threat to Madhavghar and his rule and orders for Veer to be killed. Veer and Punya along with their supporters go into hiding within the Thar Desert of Rajasthan, while Singh makes an alliance with the British Governor of Rajasthan, James Fraser (Tim James Lawrence), saying that Madhavghar will support the British in crushing the Pindari movement and eliminating Veer.
To keep stakes high, the Pindaris kidnap Singh's daughter Princess Yashodhara (Zarine Khan), who Veer finds himself in love with. The Pindaris then make a failed attempt to take down Singh's palace by surprise. However Singh's spies discover the plan and thousands of Pindari warriors are slaughtered. Veer fails to get his revenge on the corrupt King. In the meantime, Lady Angela Fraser (Lisa Lazarus), wife of British Governor James Fraser, begins to question her husband's actions as he supports the evil king in slaughtering members of the Pindari movement. However Fraser refuses to back down his campaign in crushing the Pindari movement of Rajasthan.
---
Cast: Salman Khan, Zarine Khan, Mithun Chakraborty, Sohail Khan, Jackie Shroff
Music: Sajid-Wajid
Producer: Vijay Galani, Sunil A. Lulla
Direction: Anil Sharma
---
Rights available :
Theatrical,
Home Video,
Terrestrial Television,
In-flight
Rights availability enquiry form
( Fill in this form if you are interested in obtaining the rights for this movie in your territory)
---
Year of release: 2010
Duration: 155 minutes
---
Preview
Movie Trailer
Gallery
---
Are you a programming or acquisition manager looking for the best Indian movies and obtaining the rights for your territory? Fill in the form below and we will come back to you with all the requested information: