Kasautii Zindagii Kay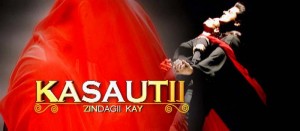 If you are a TV programming manager and you are looking for the best rating Indian TV series, this is one of the series which achieved the highest rating in India in 2013.
Moloy Basu runs a large company called Basu Publications, and his best friend Rajesh Sharma works for it. Moloy wants Rajesh's daughter Prerna to marry his son Anurag. At first, Anurag and Prerna dislike the idea, but later they fall in love. Anurag's mother Mohini is against this relationship because of the financial disparity between the upper-class Basus and middle-class Sharmas. One day, the lovers get stuck in a lonely place and end up consummating their relationship. Their mutual love is recognized by their fathers, who decide to get them engaged. But, in a tragic accident, Rajesh passes away and Moloy goes into coma. Using this opportunity, Mohini plans to separate them. She successfully uses emotional blackmail on Anurag. Prerna finds out she is pregnant, even as Anurag marries Komolika, the daughter of Mohini's friend. Prerna thinks Anurag has cheated her and decides to take revenge. Anurag silently helps her. Later, Prerna gives birth to a son and names him Prem. He is adopted by Prerna's brother and sister-in-law. The Basu family gets a shock on finding out that Komolika is a gold-digger. She has married Anurag for the sake of his family's wealth. Anurag divorces her. He also finds out that Prem is his son.
Happiness seems to be back in the lives of Prerna and Anurag. They decide to get married, with blessings from both families. But fate plays spoilsport. Komolika takes over the Basu family's assets. She is helped by Rishabh Bajaj, a handsome, rich, shrewd and hardhearted businessman. The Basu family is facing the worst time of their lives. Prerna approaches Mr. Bajaj. He asks her to marry him in return for the assets. She unhappily agrees, for the sake of Anurag's family, and gets married to Bajaj. Anurag is heartbroken and unable to forget her.
The reason Mr. Bajaj married Prerna is soon revealed. He has three children — Vishakha, Tushar and Kuki — from a marriage that ended in a divorce. The youngest child, Kuki, is blind. He wants a woman to take care of his children. Slowly, Prerna gets attached to the children, and they too love her. She even manages to bring about some change in Bajaj, making him a more sensitive and humane person. After some time, Bajaj falls in love with Prerna and expresses his feelings to her. She is shocked, since their marriage was based on an agreement that they would never have an intimate relationship. Then a new person enters their lives: Menaka Bose. She finances Anurag's business and is extremely interested in the Bajaj family. It is later revealed that she is Mr. Bajaj's ex-wife and the mother of his children. When Menaka learns about Bajaj's re-marriage, she tries to bring her children over to her side, but they remain loyal to Prerna. Bajaj goes abroad on business. Meanwhile, Anurag talks to Prerna as a friend. He tells her to move ahead in her married life and get close to her husband. Prerna agrees to do so. Just then, she gets news of her husband's death in a car accident abroad. She is shattered.
The widowed Prerna decides to fulfill all of Mr. Bajaj's responsibilities. She takes good care of his business and family. Tushar and Vishakha are shocked when they learn that their father had forced Prerna to marry him. They make plans to re-unite Anurag and Prerna. It is then revealed that Bajaj is still alive and in a coma. His accident and reported death were arranged by Menaka, who wanted to separate him from Prerna. Meanwhile, Kuki's eyesight is restored through Prerna's efforts. Even as Prerna and Anurag get married in India, Bajaj regains consciousness abroad. Cleverly, he figures out Menaka's evil plans and exposes them, so that she goes to jail. Everybody tries to convince Mr. Bajaj that he should let Prerna live with Anurag. Bajaj does so, but is not able to forget her.
Prerna and Anurag spend some happy days together with their son Prem. But Prerna loves Bajaj's children, too, and sometimes neglects her family to be with them. Then, Komolika gets back into the Basu family. She marries Anurag's cousin Subroto. Komolika keeps trying to influence Mohini against Prerna. As a result, Mohini behaves badly with Prerna. Bajaj secretly tries to disturb Prerna's life with Anurag. He keeps creating misunderstandings between the couple. Anurag distrusts Bajaj. But Prerna treats Bajaj as a friend. Anurag gets jealous and thinks Prerna loves Bajaj. This causes tension between the couple. Then comes the biggest blow in Prerna and Anurag's lives. Two-year-old -Prem is kidnapped. Anurag, with the help of the police, searches every nook and corner of the city. Finally, when they find the boy, they are shocked to see him in a very serious condition. A tragedy occurs when Prem dies in the hospital. Prerna and Anurag are devastated. They struggle to come to terms with their son's death and end up blaming each other for it. Mr. Bajaj's well-meant interference causes more strain in this already shaky relationship, and Prerna leaves the Basu house. In another shocking twist, the real kidnapper of Prem is revealed to be Subroto. He did all this to get the whole Basu property in his name. Though he did not intend to kill Prem, the goons he hired used too much chloroform by accident, which caused the child's death.
Prerna finds herself pregnant again. At first, Anurag is excited to know about this. But Komolika creates doubts in his mind and makes him think that Prerna is carrying Bajaj's child. Prerna is stunned at Anurag's lack of trust in her. Mohini uses the opportunity to widen the gaps between the couple and lead them to a divorce. Due to the constant comments and questions from her own family, Prerna leaves the house and starts staying with Mr.Bajaj and his children. On the other hand, a new friend Aparna enters Anurag's life. Mohini decides to get Anurag married to Aparna. Anurag unhappily agrees. Prerna is shattered to know this. Anurag slowly accepts that Aparna is his present and Prerna his past. Time passes and Prerna gives birth to a baby girl, whom she names Sneha. After Prerna's delivery, Anurag decides to do some DNA tests as there is a chance Sneha might be his daughter. Komolika, knowing everything, switches the test reports and proves that Anurag is not the baby's father. Anurag's worst fears are confirmed. Feeling bitter, he consummates his marriage with Aparna. He refuses to acknowledge Sneha as his daughter. Prerna is hurt beyond words. Along with her baby daughter, she moves to a hill town, where the Bajaj family joins her.
The story takes a leap forward of eight years. Prerna, Anurag, Bajaj, Aparna and Komolika's destinies cross again. The eight-year-old Sneha is the apple of Prerna's eye. Mr. Bajaj also adores the child. However, Sneha doesn't know who her father is. She goes to school and befriends a girl named Diya who is, in fact, Anurag's niece. Sneha visits the Basu House with Diya. Nobody guesses that she is Anurag's daughter. Anurag is won over by Sneha, who resembles him in many ways. Later, Prerna and Anurag come across each other at a camp attended by Sneha and Diya. Anurag is upset to think that the child he has grown to love is the proof of his ex-wife's disloyaly. Owing to societal pressures and Sneha's increasing questions about her father, Prerna gets engaged to Mr. Bajaj. Later on, fate plays its cards again—Sneha is diagnosed with leukemia. Her only chance of survival is with a bone marrow transplant. Anurag now comes to know that Sneha is his daughter and Prerna has never cheated on him. The doctors are not able to find a bone marrow donor for Sneha. In order to save her life they advise Prerna to have another child with Anurag, so that its bone marrow can be used to treat Sneha. In a move supported by Bajaj and Aparna, Anurag and Prerna come together to have another child. They no longer wish to stay with each other. But their coming together and the resulting pregnancy cause insecurity to both Aparna and Mr. Bajaj.
Then, Karvachauth (a festival of the Hindus for married women) approaches. Knowing that things in the two couples' lives are sour, Aparna decides to fast for good luck. When Anurag returns home, he sees that only Aparna is there. In the midst of loving conversation, she suddenly stabs him with a knife. Then, her true colours are revealed. She is actually an evil person. She is only interested in Anurag's wealth. She had earlier married a man named Debo, with whom she had a son called Shravan. But she has hidden Shravan away. Debo wants to know his son's whereabouts, so he helps her kill Anurag. The entire Basu family is plunged into despair, and everyone pities Aparna, thinking that she is a grieving widow. However, Debo has actually saved Anurag and told him the whole truth. They make a plan to get back at Aparna and also find out about Shravan. Prerna and Sneha also get to know everything. They all frighten Aparna by showing her Anurag's 'ghost' (as she thinks). She yells out the truth, which is overheard by the police and the Basu family. Aparna is sent to jail, while Shravan is found. However, Debo dies, leaving his son in Anurag's care.
Rishabh Bajaj breaks his engagement so that Prerna can return to Anurag. But, by now, she is in love with Bajaj, who has supported her through thick and thin. Anurag is also now interested in getting back with Prerna. But he decides to be a good friend and unite her with the man she loves. Prerna gives birth to a son and names him Prem in memory of her first child. Sneha's illness is treated successfully. Bajaj and Prerna get married and are soon expecting their own child together. However, another disaster strikes. Little Prem is kidnapped by Komolika because of Anurag's carelessness. Prerna is furious with Anurag. The former lovers-turned-friends get totally estranged from one another. Anurag goes abroad with his adopted son Shravan. Prerna gives birth to Bajaj's daughter Kasak. After this the story takes a huge time-leap of a generation.
After the time leap, Prerna and Anurag run into each other again, causing mixed feelings in both of them. After some time, Anurag decides to get married to his loyal friend and business partner Sampada. Shravan and Kasak, now grown up, fall in love with each other. They are to get married, but at the last moment Shravan finds out the past history of Prerna, Anurag and his mother Aparna. He thinks that Prerna cheated Aparna. He takes revenge by abandoning Kasak, who is pregnant and soon miscarries. Relations between the two families become even more tense. Their old enemy, Komolika, comes back to add fuel to fire. Amid many misunderstandings, Prerna and Anurag find their lost son Prem, now known as Yudi. He has turned into a bitter, heartless and selfish young man. Prerna takes up the challenge of improving him, but it proves to be very difficult. In the meantime, Sneha gets married to Sharad. He seems to be an ideal husband, but is later found guilty of raping a young woman, Prem's girlfriend Mukti. Confronting Sharad with this discovery, Sneha accidentally shoots her mother-in-law without meaning to do so. Prerna takes the blame for the death and spends some years in jail.
When she is released from captivity, Prerna finds her family in pieces. A grieving and guilt-stricken Sneha has turned into a drug addict. Mr. Bajaj has distanced himself from everyone. Only Anurag understands and supports Prerna. Eventually, she brings her family together again. Prem, who is devastated after Mukti's accidental death, finds comfort with her look-alike Devki. However, Devki also disappears without explanation one day. The heartbroken Prem finally marries a girl named Palchhin, who provides him with much-needed stability and companionship. Sneha remarries and is soon expecting a child with her husband Omi. However, another storm is brewing in the lives of the Basu and Bajaj families. Anurag's wife Sampada has become jealous of his friendship with Prerna. Misunderstandings are growing between Anurag and Bajaj. The two men have a show-down on a hilltop one stormy night. Unseen in the confusion, Sampada fires a bullet at Mr. Bajaj, sending him headlong into deep water. Prerna gets the wrong idea that Anurag has killed her husband. She shoots Anurag in a blind rage and he falls into the same water as Bajaj. Both both men are believed to be dead. If Sampada tells the truth, she will be arrested for Bajaj's murder. So she saves Prerna from getting punished for Anurag's death.
Another 20 years pass. Prerna is now a grandmother to several youngsters. A mysterious man named Pratham Mittal starts creating problems for her. He is soon revealed to be Anurag, who survived the shootout twenty years ago. Having undergone plastic surgery, he has acquired a new appearance and identity. He is very angry with Prerna for what she did to him. However, as time passes, he again begins to care for her. Finallly, he discovers that the real culprit is his wife Sampada. After Sampada is exposed, the Basu and Bajaj families think about uniting Prerna and Anurag in the evening of their lives. However, at this point, they come to know that Rishabh Bajaj is alive. He is lying unconscious in a hospital. Prerna is overjoyed to find her long-lost husband. However, Anurag gets suspicious and discovers that Bajaj is trying to take revenge against Prerna and him. This is because of Bajaj's wrong idea that Prerna and Anurag have cheated him. Meanwhile, two of Prerna's grand-daughters—Prerna Junior (P2) and Dhara—have got married to brothers Nihaal and Vardaan Garewal. Komolika makes an unexpected appearance as the aunt of the Garewal brothers. It is then revealed that Komolika is still trying to hurt Prerna and Anurag. She is the one who has poisoned Bajaj's mind. Finally, Bajaj realizes that Prerna and Anurag are innocent. Komolika shoots Mr. Bajaj in the head. Prerna responds by killing Komolika. However, in the process, both Anurag and Prerna also lose their lives. Mr. Bajaj survives but loses his mind and is placed in a mental hospital. He only responds to Prerna's name. Prem writes a book titled Kasauti Zindagi Kii. It describes Anurag and Prerna—lovers who were separated throughout their lives but achieved union in death. The spirits of Prerna and Anurag look on. It is suggested that they will be present wherever two lovers come together.
---
Rights available :
Terrestrial Television,
Cable and satellite,
Video / DVD,
VOD,
Mobile,
In-flight
Rights availability enquiry form
( Fill in this form if you are interested in obtaining the rights for this TV series in your territory)
---
Episodes
1400
Duration
30'
Total Hours
700
---
Preview:
---
View additional Kasautii Zindagii Kay series information on Star TV
---
Gallery
Are you an acquisition, programming manager or distributor and interested in obtaining the rights for these series for your territory? Fill in the form below and we will come back to you with all the requested information: